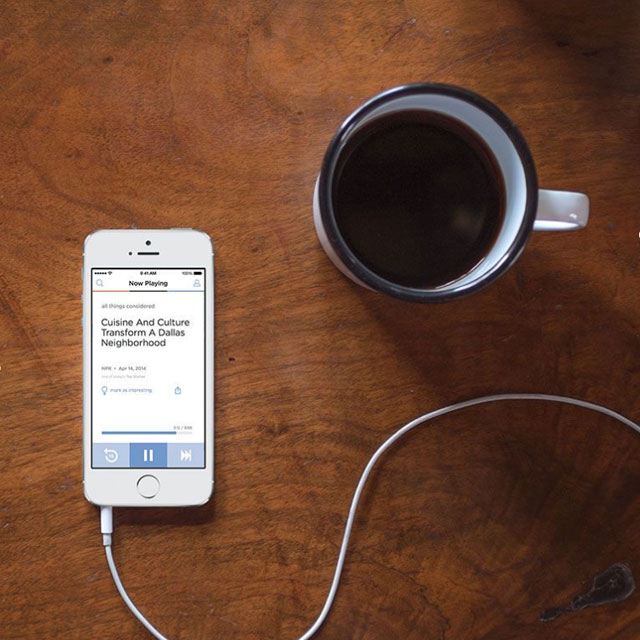 Designing how you hear it: NPR's Benjamin Dauer
As part of the AIGA InHouse Initiative, we took to the streets and met up with NPR's senior product designer at National Public Radio in Washington, D.C. to learn more about his experience working for an in-house creative department. Since writing this piece, Benjamin has moved from Product Designer for Facebook, to Senior Product Designer at Spotify. Always nice to see a designer thrive.
"I love being in-house because I am tightly integrated with the teams I work with and have a deep understanding of a product's full lifecycle." ...read the full interview on AIGA.org.
AN INSIDE LOOK AT BALTIMORE MAGAZINE
Another interview we conducted with the Creative Director for the oldest magazine in the United States. Seriously! You can read the article here.
I have a deep appreciation for this magazine. I worked under the Editorial Department and the Art Department as an intern at the very start of my career, before returning to school. I published several articles here and learned to love a well-told story.
Book REVIEW: Illustration that Works by Greg Houston
AIGA asked Greg to write a review of Houston's book. Here is an excerpt, read it on their blog.
Hours disappear in minutes whenever I'm drawing, so it's great having a sketchbook with me for dull pauses in my day. If I sketch for 20 minutes while sitting in the dentist's office, it feels like I'd just sat down when my name is called. Seriously, it's like time travel.
Whenever I sketch in public, there's a chance someone might notice what I'm doing and we'll start chatting about drawing and the sort of work I do...
For the love of analog design
An older publication, but boy do I love when Greg obsesses about his favorite tools...
Pens!
For years, I've used a fine-line Sharpie to make regular, everyday notes. It's for legibility reasons, actually: nothing I write in ball-point can be read. When inking a drawing, I switch between Pitt artist pens (sizes F-XS) and, for the most delicate work, a Pilot Hi-Tec-C, which is engineered for precision with smudge-free ink. It's probably my favorite pen ever but don't tell Sharpie I said that.
Paper!
I have three types of paper: dirty, clean, and notebook. The dirty paper is a sketchbook that comes from the dollar store, with 80 pages of cheap, grey, pulp. It's not only inexpensive, alleviating worry about using it up too quickly, but it's also not suitable for a finished piece, granting a sort of freedom to experiment and make mistakes.